For the past two years, the reputed chef has been at the helm of Tempéra Québecor located in the new Pierre-Lassonde pavilion of the Musée national des beaux-arts du Québec, in Quebec City. Each dish is a work of art. "I have a definite inclination toward artistic presentation. Some paintings inspire my creations," she states with pride.
This taste for fine, beautiful things accompanied by tapas-style plates seduced the museum's managers. It's hardly a surprise that Lepage was also given the proverbial and literal keys to two other of the museum's restaurant areas, the MNBAQ Restaurant signé Marie-Chantal Lepage and the MNBAQ Café.
Seasoned chef
The 54-year-old Chef Marie-Chantal Lepage wasn't born yesterday — figuratively or otherwise. Prior to becoming the resident chef at the museum, she had her own restaurant named L'Espace MC Chef, where she was the first-ever in Québec to host "cooking performances" in the dining room. The innovation came to a hasty close, however, after three years of existence. "It was working well, but I didn't properly assess the fixed costs, so I had to go bankrupt." Yet that slight misadventure is far from a summary of her pre-museum career.
Marie-Chantal Lepage has been a leader in many ways. In the 2000s, she was the first woman to receive the Chef régional et national de l'année title from the Société des chefs, cuisiniers et pâtissiers du Québec. In 2005, she won the Mapaq Hommage aux femmes en agroalimentaire prize. Lepage is the author of several cookbooks (15 femmes chefs and 100 bouchées festives) and is also an enthusiastic ambassador of Quebec-made products when abroad.
Persistent, pioneering
This chef-pioneer — and her dedication and will — quickly made a choice place for herself in what was at the time a man's world. "When I started cooking in 1982, there were very few professional female chefs. I hated that! Everyone said 'a woman is great in the kitchen — at home.'"
She would have given up years ago, were it not for the support of Serge Bruyère, who at the time had one of the largest restaurants. "Mr. Bruyère was my mentor. He always told me, "Madame Lepage, you have the potential to go very far." When I heard that, I gave it everything I had, and it's because of him that I'm still in the industry today," she recounts.
After spending three years learning all she could from Bruyère, the otherwise self-taught chef began to create her CV, and career: a chef position (her very first) in Vieux-Québec's La Bastille Chez Bahüaud restaurant, then on to Executive Chef at Beauport's Manoir Montmorency, where she led the kitchen reopening after a devastating fire. "With 200 seats in the restaurant and 500 in the banquet hall, my colleagues thought I'd crack after only two months. I held on for 12 years." After that position, she then moved on to Executive Chef at the Château Bonne Entente in Sainte-Foy.

Signé Marie-Chantal
Today, Lepage is a queen of the culinary world, and no longer needs to worry about proving herself. Chef Lepage isn't concerned about re-creating the gourmet world, but rather creating cuisine that is feminine, thoughtful, freshly vibrant yet sophisticated, with numerous flavours and textures. "I use what's in season. I like working with raw ingredients and vegetables. You can do incredible things with asparagus, beets, and tomatoes grown in Québec." The renowned chef can often be found walking around the dining room greeting guests, and her hope is that they come, eat and experience a moment that's filled with surprises and wonder. "They pay to come and eat here, and there are a lot of other restaurants around. I'm honoured by that, and I require excellence from my staff because of it."
Now in a different stage of her life, the former workaholic has decided to slow things down a little bit, and select priorities. "I had a bankruptcy, I separated from my spouse, I got sick. Life has had its ups and downs… Now, I'm at the restaurant when I need to be. I focus on creating dishes, menus, and concepts. And I take time off to travel."
Chef Lepage dreams of one day living in Andalusia complete with goats, chickens, a lush garden and a little place by the side of the road to regale small groups of tourists. "It's my dream!" Until that time, though, she gets inspiration from the museum's works and exhibitions, which are always accessible to her. "I'm surrounded by art and light, and in turn, I get to be gastronomically artistic. What could be better?"

Foie-gras crème brûlée with ground-cherry compote
Serves 12
Crème brûlée
225 g (1/2 lb) duck foie gras
100 ml (7 c. à soupe) 35% cream
100 ml (7 c. à soupe) milk
2 egg yolks
Salt and pepper
Ground-cherry compote
250 mL (1 cup) ground cherries
125 mL (1/2 cup) white sugar
30 mL (2 tbsp) lime juice
1. Crème brûlée: Preheat the oven to 120°C (250°F). 2. Cut the block of foie gras into large chunks and purée until the texture is smooth and uniform. 3. Heat cream to boiling, then let cool. 4. Add cream to the fois gras and mix until consistency is uniform. 5. Add the egg yolks and milk, then season to taste. 6. Fill 12 oven-ramequins, and place in a bain-marie in the oven for roughly 10 minutes. 7. Let cool. 8. Dust surface with a pinch of sugar, then carmelize using a small kitchen blowtorch, or place ramequins until the oven's grill and set oven to max heat. 9. Let the crème brûlées rest. 10. Ground cherry compote: Mix the ground cherries with the sugar and lime juice together in a pot over low to medium heat for 10 minutes. 11. Let cool, then use to garnish crèmes brûlées.
What to drink with this crème brûlée?
Crème brûlée and foie gras go marvellously with dessert wines on their own — imagine how delectable they'll be when united in the same dish! The creamy texture pairs perfectly with the wine's sweetness. The wine accents of honey, peach and pineapple highlight the ground cherry compote that garnishes the crème brûlée.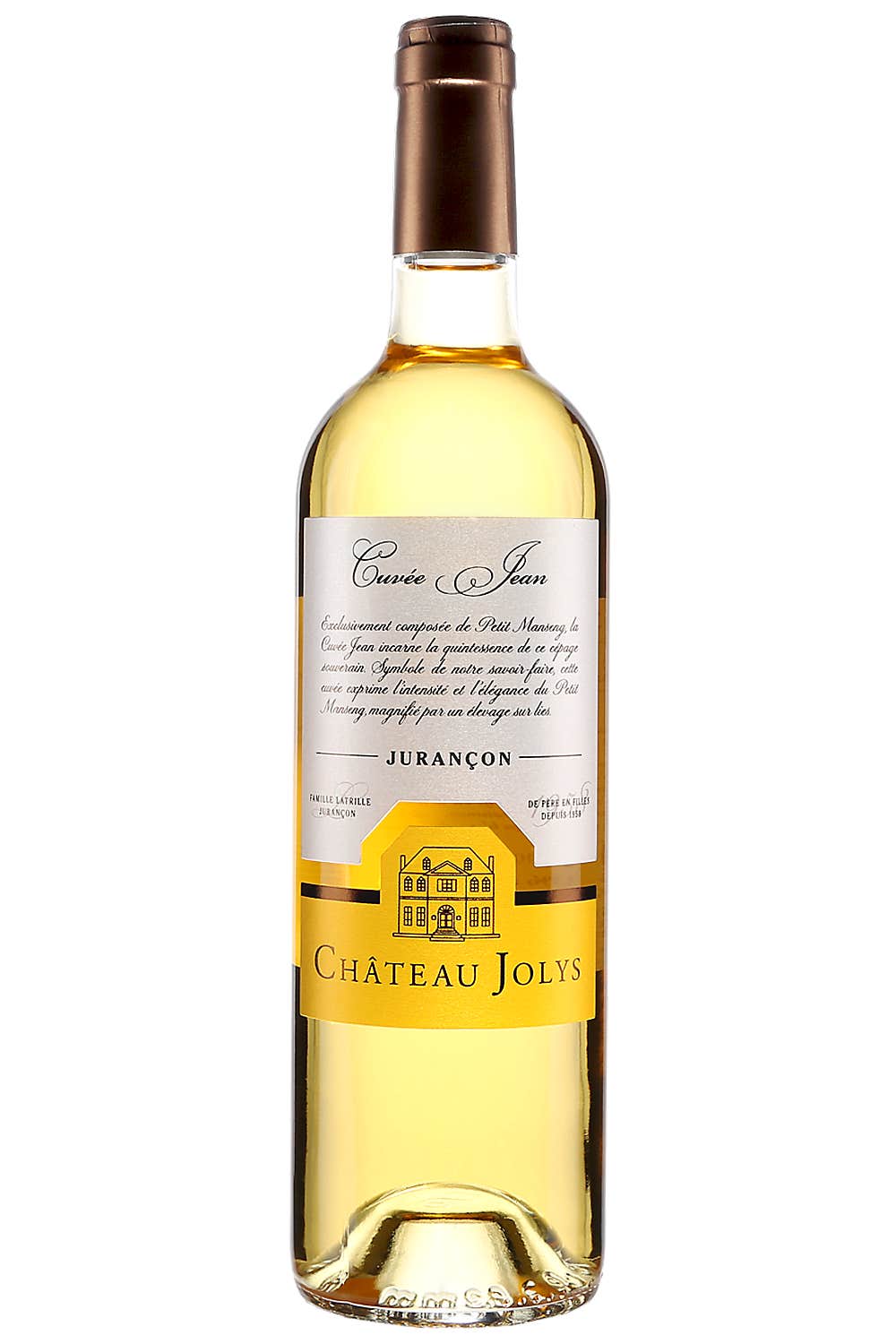 Château Jolys Cuvée Jean 2016
$26.10
750 ml
France
SAQ code : 913970
Note: For vintage products, the vintage in stock may differ from the one displayed.
Reduced prices do not apply to SAQ Dépôt stores unless expressly stated to the contrary.
This crème brûlée can also be paired with ice ciders.
Photos: Julien Faugère